If you don't have a conditioning unit, it is quite difficult to presume your house would be cool the moment you step into your home during the summer. This is one of the great benefits of a Wifi Air Conditioner. With a smart AC, you can keep your house cold and chilled perfectly. Owing a smart air conditioner allows you to manage it through a mobile app even while you're not at home. You can switch it on before walking through the door to have that cool and calm air flowing. This enables you to conduct a variety of remote tasks without bothering to be at home. With a smart air conditioner system, you feel relax when you are far off from home.
Built-in Wifi Air Conditioner Models
A smart air conditioner must have Wifi features to connect to an app, enabling you to control and effectively manage it from your phone or tablet. Smart air conditioners allow you to modify the desired temperature, modify the fan speed, and switch them on and off from anywhere. Many also let you program a cooling plan, to switch on as required. Some also enable voice controls from Amazon Alexa, Apple Siri, and Google Assistant. The article exclusively compares ac models with built-in Wifi. We chose the following models from top-tested platforms, with great online ratings, and new intriguing features. Our top pick of built-in Wifi air conditioners are:
Samsung wind-free GEO,
Daikin Zena,
LG smart series
Mitsubishi Electric LN series
Samsung Wind-Free GEO
Samsung's Wind-Free systems cool softly, swiftly, and silently by distributing air via 23,000 tiny air holes, eliminating the uncomfortable sensation of cold wind on your skin. Samsung's Wind-Free technology is so effective that you may not even notice it. When the appropriate temperature is achieved, the system evenly distributes fresh air without the disagreeable blast of cold wind. However, in addition to gently maintaining a pleasant temperature, the new design provides temperature indication on the front screen.
Some of the intriguing features of this Samsung wind-free include:
Intelligent airflow control –This control helps maintain comfort level by providing efficient working conditions of the AC unit. It also helps minimize the Ac unit noise level.
Al Auto cooling mode – AI auto cooling mode analyzes the environment you're in and changes the temperature based on the circumstances of the room, the outside temperature, and your prior usage trends.
Wifi compatible – It is also Wifi enabled, which allows you to control and monitor the appliance even while you are away at home using Samsung's SmartThings app.
Auto clean mode – The Auto Clean feature will automatically operate the fan, within the appliance at a low altitude (after you switch off your AC unit) to assist dry up moisture, inside the heat exchanger of the air conditioning unit. This is supposed to help keep the unit dry and limit the development of bacteria.
R32 refrigerant- This feature portrays a new era for air conditioning refrigerants. With the wind-free AC unit, Samsung has introduced a new refrigerant to its air conditioning line to help preserve the ozone layer and prevent global warming.
 Daikin Zena
This air conditioner indoor unit is made in a curved aerodynamic frontal panel design, a contemporary design that is sure to amaze its users. The Daikin Zena indoor unit is offered in a black wood finish or a pure white hairline finish/colour. This is a one-of-a-kind pattern, featuring a modern style of cooling unit.
And when in use, the front panel rises to allow cold air to be distributed into the room silently and effectively. It also features Daikin air purifiers and split systems to show the butterfly emblem since they have been approved by the National Asthma Council Australia.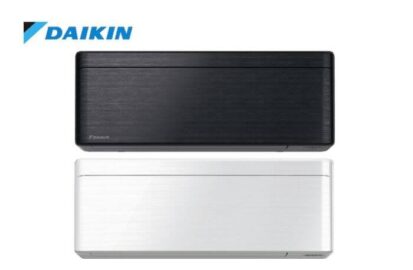 This amazing cooling unit has the following features
Standby power function- significantly minimize energy usage by switching into sleep mode while your device is operating at that moment.
Wifi Remote: It has a Daikin wireless LAN adapter connected to your air conditioner. With the help of the Wifi enable ability, you can manage your cooling unit far away from home. All that is required is to download the Daikin Mobile Controller app downloaded from the Apple App Store or Google Play, and you are good to go.
Super Quiet – It features a calm operation that you won't even notice the air conditioner is running when it is in a quiet whispering state, with the interior unit lowering to 19dBA.
Powerful mode button- This is rapid cooling for extremely hot days. its powerful mode provides the air conditioner with a jump in cooling for 20 minutes above regular capacity, which is a gift for Build-Up.
Intelligent Eye Feature – When a room is vacant for 20 minutes, it adjusts the air conditioning settings to energy conservation operations to help you save money on electricity. When someone re-enters the room, the air conditioning instantly restores to its previous settings.
LG Smart Built-in Wifi Air Conditioner series
If you need a window AC unit, going for an LG smart air conditioner is a great decision. It features a beautiful appearance and excellent cooling performance. Also, It runs more silently than any contender, thanks to its unique Dual Inverter technology. It is made up of a specially designed motor and compressor that operate in perfect (and silent) harmony. You can also use LG's SmartThinQ mobile app to manage the air conditioner's controls. Also taking note of the precise temperature of the spaces.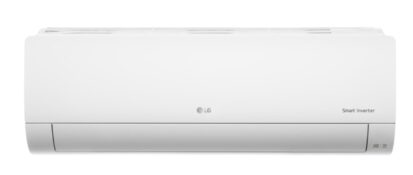 This is a built-in Wifi Smart unit that allows access and manages air conditioners while far from home via smartphone. It features:
Troubleshooting Help-the-Smart Diagnosis feature offers suggestions and info related to product usage characteristics to assist users in troubleshooting.
Active Energy Control- the Smart ThinQ app also allows users to monitor their weekly or monthly energy use. And manage their energy consumption with the LG ThinQ app.
Energy Use Display- It also features a remote control button. This helps customers to see the air conditioner current energy consumption.
Plasmaster Ioniser Plus-the Plasmaster Ioniser produces approximately 3 million plasma ions, which filter the air in the interior environment within the air conditioning unit.
The Auto Cleaning feature- helps in the reduction of mold and bacteria growth on the heat exchanger. Auto Cleaning dries the coil, reducing the number of germs, mold, and odors that may develop in an indoor unit.
Inverter technology- LG Smart Inverter Compressor is designed to withstand high temperatures and is dependable even in harsh Australian conditions.
Mitsubishi Electric LN Series
The LN series has sophisticated Wifi control. This enables you to operate your unit remotely via smartphone, tablet, or desktop web browser app. This allows you to switch off the unit when you are far from home, saving you money on operating expenses. Furthermore, with sophisticated control, you may set minimum and maximum room temperatures to automatically turn on the device.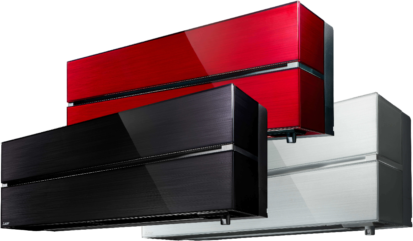 The Mitsubishi LN series features:
High-Quality Glossy Finish- high-quality materials and personal touch are increasingly essential in contemporary interior design, both in public and private settings. The Diamond wall-mounted device is available in four distinct color variations:
Ruby Red — for opulent home decor and a captivating splash of color.
Natural White and Pearl White — for an exquisite touch to the room's interior as well as contemporary contrasts against dark wall surfaces.
Onyx Black — for a bold fashion statement.
i-See 3D Sensor- the 3D i-see sensor identifies the presence and location of people in the room and adjusts the air conditioning accordingly. This enables the Diamond wall-mounted device to do more than save electricity and also improves comfort.
Quad Plus Plasma- the Plasma Quad Plus filter functions similarly to an electrical curtain, utilizing discharge to make any germs and viruses in the surrounding air harmless. It is extremely efficient in removing molds and microparticles in addition to germs, viruses, allergies, dust, and Covid-19 prevention. This is also crucial to establish a healthy living environment for everyone.
R32 Refrigerant.-This is a new era of air conditioner refrigerant. This feature allows for improved energy efficiency and a substantial decrease in global warming – ideal for those concerned about the environment.
Hybrid Nano Coating Technology -this feature decreases the adherence of several kinds of hydrophilic and hydrophobic dust. It helps remove dirt, which can affect the product's operating performance.