When you run property in Western Sydney, you are all-too-aware of the importance of having proper air conditioning. When those warm summer months begin to kick in, you'll be happy you make this investment. However, with so many forms of AC units to choose from, you might not be sure what is the best option for you. With that in mind, then, we recommend you look at a back-to-back air conditioner installation.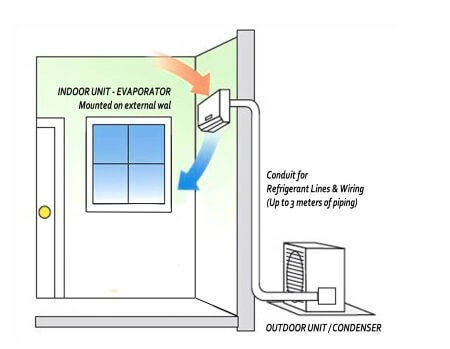 What is a back-to-back air conditioning installation?
A back-to-back AC unit is a very common AC unit system today which is simple, easy to fit. The components make the entire setup quite simple. The wall-mounted indoor unit uses cooling pipes to run through the walls and connect to the outdoor unit, which is typically located directly underneath the indoor unit.
This is where the "back to back" term stems from. These are typically quick, cheap, efficient AC units for anyone trying to keep their home nice and fresh. They are typically aimed at smaller and medium houses, smaller offices. Especially, those who are trying to cut down the cost of installing AC units at home or in the workplace.
What is included in a back-to-back air conditioner installation?
Typically, a back-to-back air conditioning system is going to provide you with a host of key features. For one, a back-to-back installation tends to come with around 3m of refrigerant pipes. They also tend to come with a piping hat such as plastic or Colorbond trunking., which covers all pipework and interconnects cables between internal and external units.
The benefit of a back-to-back AC is, it typically will run off the existing power sources that you already have. You will also have 5m of power supply cable  for the unit up to 5kw cooling capacity
Lastly, you will use an independent power circuit from the main power board for units above 5kw cooling capacity. The outdoor unit takes place on concrete slab rubber or plastic feet.
Is a back-to-back aircon right for me?
When shopping around, then, you might find yourself wondering if a back-to-back air conditioner is a right option for you. They provide a cheap, effective, and highly reliable option for a modern air conditioning system.
Typically, though, we recommend a back-to-back AC installation for homes that are either single-storey properties or dwellings and enough room outside of the building to install an outdoor AC unit. If you would like to evaluate the opportunity to have an AC unit like this fitted, though, simply reach out to us today for more information regarding your back-to-back AC installation.
We can provide you with a split system price based on where you are in the Western Sydney and Hills areas, making sure you can get the best price. If you are outside of these areas, we will look to strike the best deal regarding costs and delivery fees.