A split system air conditioner is an excellent choice to keep your home cool and comfortable throughout the warmer months. These units are silent, simpler to install, and more eco-friendly. This kind of A/C is ductless, and the pieces make the whole setup pretty easy. The requirement is to put the cooling unit in the interior part of the home and the compressor and condenser unit externally, then run pipes and a power connection between the units. Installing split air conditioner procedure refer to as back-to-back installation.
The back-to-back split installation is one of the most inexpensive air conditioning solutions, making it ideal for homes and small businesses. This installation is affordable to install and operate, saving you money on both the original and future utility costs. Split systems are also renowned for their longevity and dependability, often coming with five-year guarantees and needing minimal maintenance or repairs. It is advisable for those attempting to reduce the expense of installing air conditioning equipment at home or business.
Features of a back-to-back air conditioners installation.
A back-to-back air conditioning system will often offer you a slew of valuable functions. For starters, a back-to-back installation typically features:
An approximately 3m of refrigerant tubing.
A piping cap, such as plastic or colorbond steel, conceals all pipes and connects internal and exterior units.
Uses the current sources of energy that you already have. You will also get 5m of power supply cable for the device with a cooling load of up to 5kw.
A dedicated power supply from the primary power board for devices with cooling capacities of more than 5kw
The outside unit takes place on a concrete surface with rubber or plastic feet or on wall brackets as an optional
When can I install a split air conditioner system on an internal wall?
When shopping around, you may question whether a split back-to-back air conditioner is the best choice for you. They are a low-cost, efficient, and dependable choice for a modern air conditioning system. However, we generally advise installing a split system on an interior wall for homes that are either:
single-story properties or dwellings with enough room outside of the building to install an outdoor AC unit
having a panoramic window on external wall with insufficient space for a wall mount unit
To preserve the design requirements of the external wall
If the external wall is occupied by furniture or other household objects.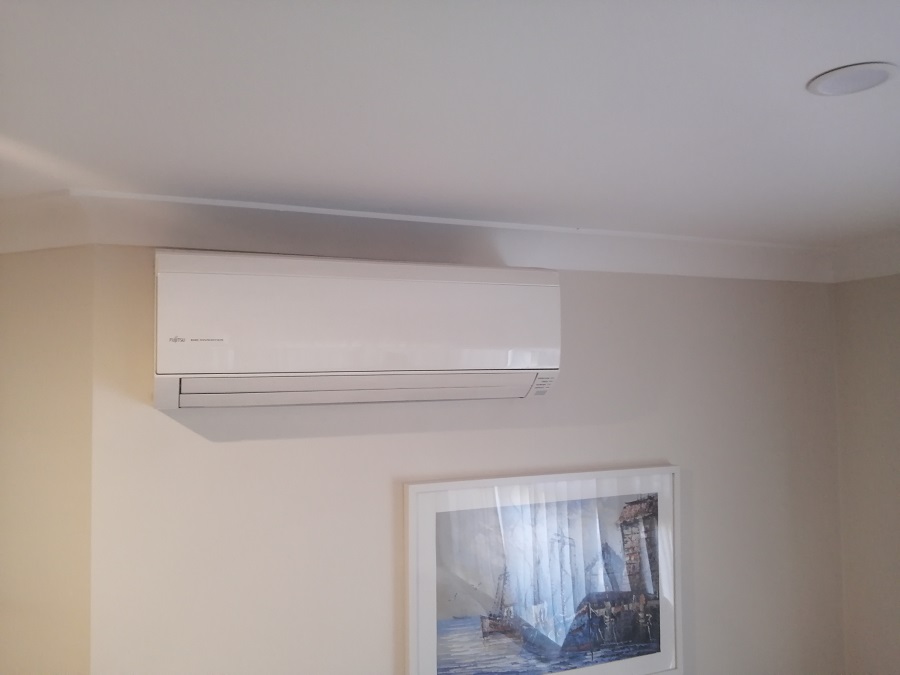 Two types of internal wall installation
The split AC unit comprises of two-part, the fan coil unit inside and the and condenser unit outside. A brief explanation of external wall installation for the condenser unit.
Type one installation
Internal wall installation is possible if you have roof space (attic) above the ceiling to conceal the pipework as illustrates in the diagram. Refrigeration pipes pass up the internal wall into the roof space, push outside through the eves to the condenser unit. The main issue is how to arrange condensation drain discharge from the unit because it has to go down for gravity discharge. The first way is to run it outwardly via the back of the internal wall preferably hiding it behind the furniture.  Secondly, install a condensate drain pump that is going to lift water up to the roof, and you can discharge it together outside with refrigeration pipework and cabling. A good condensate pump costs an extra 200-300$ and has some installation requirements. Kindly take note that a cheap condensate pump could break easily while making an unpleasant noise when working.
Type two installation
Another approach for external wall installation is to run cabling, pipework, and drain on the same outer wall. And install an external condenser outside the same exterior wall. This is an easy option than the first approach. You'll need to make a hole in the outer wall a little bit lower than the split system base (for drain gravity discharge). This should be about 20mm for each meter of the pipework and install plastic trunking from the wall mount unit to the external wall. Also, hide all interconnect services such as the refrigeration pipes, cables, and drain pipes in the base. The location of the condenser unit will be at the back of the internal installation unit. Ensure all outer wall holes are lower as your internal unit can cover it, run all pipes and intercommunication via the spot outside, and install the condenser unit nearby.
Conclusion
Split Ac units are affordable and easy to install. But, installing a split air conditioner system on an internal wall is possible, but you need to meet some installation requirements on the installation stage. More so, the installation cost will be higher than standard back-to-back installation.